Making Your Yoga Studio Website Easy to Find on Google and Facebook

it's more important than ever to ensure that prospective students are able to quickly and easily discover your yoga studio, meditation centre or massage spa on search engines or their favorit social media platforms. These days yoga students in Ibiza have many options to choose from and the main goal of this post is to help your yoga studio to be one of the first which popups in Google or Facebook search results.
With so many people turning to the internet to find local yoga studio or massage spa nearby, having a presence with your website is not enough. Up-to-date, optimized listings on various local business directory sites are a must-have for any yoga retreat or studio in Ibiza from now on.
Results Driven Website Strategy
But first things first. Whether you run your own yoga studio independently or you offer wide range of services like massages, meditations, personal growth and wellness & fitness, you name it, the first step is having a well-optimized and mobile-friendly website. Even building a website with help of tools like Wix and Squarespace is easy and fast thing to do, if you want stable and rock-solid presence on internet you might want to have a professionally designed website with focus on generating greater engagement and measurable results and providing intuitive user experience.
Why Local Search for Yoga Studio in Ibiza Matters
You've probably heard about the growth of local search, but it's truly amazing how quickly it has exploded over the last couple of years. Google claims that 60% of smartphone users visit a store or a business offering some services within a day of their local search.
Higher search visibility leads to a higher number of impressions, which means more traffic, and hopefully more potential students and customers. While content marketing and link-building strategies are aimed at improving organic search rankings, local SEO helps to increase search visibility on a local scale.
Many industry experts agree that local factors have become increasingly important search ranking signals. For many small businesses, this is good news because in some ways it levels the playing field for smaller companies that are often outranked and outbid by larger, well-known brands.
 These 3 listings have a huge advantage and likely attract a lot of new students for free.
As a yoga studio, meditation canter or massage spa owner, it's important to understand what Local SEO is and why it's different from traditional organic SEO. The purpose of traditional SEO is to get your yoga website to rank well for specific terms regardless of the searcher's location.
 Local SEO is meant to increase rankings for a yoga studio website in a limited geographic area.
And local SEO is exactly what you need – even if you're hearing the term for the first time, it's actually what matters most to your yoga retreat.
How to Make Google Love Your Yoga Website
When potential participants of your yoga retreat search for specific terms related to yoga, health and wellness, Google knows that they're looking for results from nearby yoga retreats and studios. If you search for "yoga studio" on your mobile device Google will give you a list of local studios, because it knows you're looking for a place that's nearby. 
The Top 28 Places Your Yoga Studio Needs to Be Listed Online
Helping ranked higher in Google and Facebook search results to yoga retreats and surf camps in highly competitive places like Marrakech and Agadir taught me to focus only on what really matters. I find out these proven tips are the most effective for local SEO. By applying all of them you will appear higher in search results and you will reach more potential students. This way you will cover 80% of all local organic search results throughout mobile or desktop devices no matter if you run a yoga retreat in Ibiza, meditation centre, massage spa or if you are focused on personal development and spiritual growth.
Local listings are increasingly taking up more space on the search engine results pages (SERPs). If you do not have optimized local listings, especially Google Business listings, you're missing out an opportunity to be present on first page in local search results.
Business Directories for Yoga and Meditation Related Businesses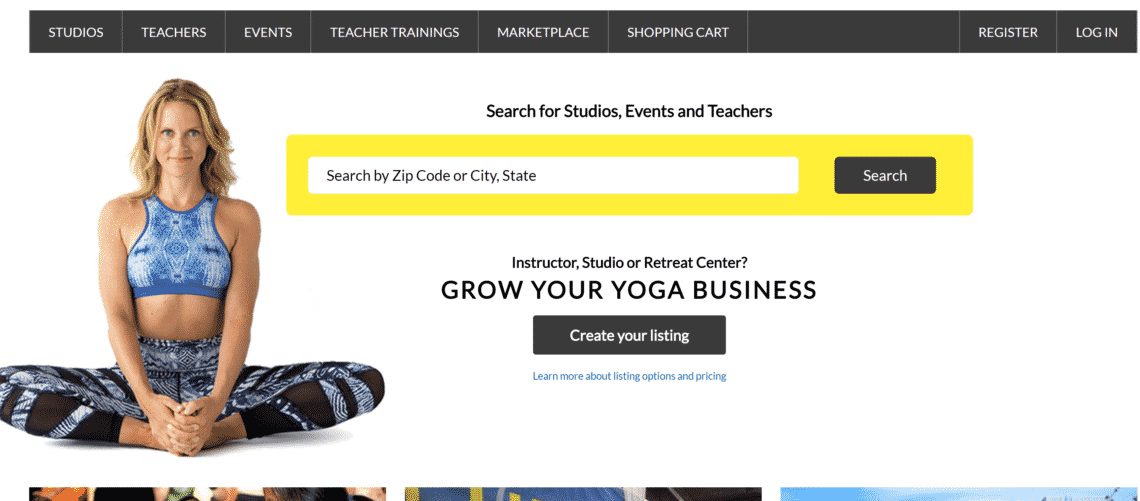 Following list is extremely important especially if you want to build a strong online presence and grow your yoga business fast:
As you may go true all directories for yoga businesses you may find out some of Ibiza Yoga studios are there already. But only few of them are using full potential of these listings. Set yourself apart and arrange an appointment with me.
Tips for Getting Top Google My Business Rankings
Because Google My Business is the most important listing for your Ibiza yoga studio, meditation centre or spa I'm giving you detailed step by step guide how to list your business correctly.
Google My Business listing is the second most important step how to promote your yoga studio in Ibiza after having mobile friendly website.
Step 1: Complete all the information asked for so that your Google My Business page is complete.
Step 2:  Add plenty of unique photos of you and your studio and even the local area.  Take care with the order you upload the images so that your best images show up on the front of the page.
Step 3:  Add your studio's business address in Schema.org output on your yoga studio website. If you use WordPress, that's easily done with Yoast's Local SEO for WordPress plugin (I use this for most of my clients). What this does is it communicates to Google in an efficient way your Yoga Studio's business location. By the way this is one of the reasons why to use WordPress based website over platforms like Wix or Squarespace.
Step 4:  Get your yoga studio listed in the top citations for yoga studios.  Over time you will want to continue adding your yoga business with other local directories and even yoga-related national directories.  There are many services that will get you all kinds of citations and it's not very expensive.  Ensure each listing is identical with respect to the name of your studio, address format and local phone number.  Yes, use your local business phone number because that also provides a location signal to Google. All information must be identical!
Step 5: Get plenty of excellent reviews from clients on your Google My Business page.
How You Can Outrank the Other Studios in Ibiza
Here's the thing. Many yoga studios do steps 1 through 4. They're easy to do. That means you MUST do something the other studios don't do to signal to Google that you deserve a top Google My Business page ranking.
What is the one thing you can do that separates you from the other yoga studios in Ibiza? It's getting more excellent reviews from clients on your Google My Business Page.
If you search for yoga studios in Ibiza, you'll see that the top rankings go to yoga studios with plenty of excellent reviews.  Sure, in some cases a yoga studio with fewer reviews may outrank a studio with more reviews, but overall, it's safe to say that if you get more high-quality reviews than the other studios in your area, you will outrank them.
You MUST do something to signal to Google that your yoga studio deserve a top Google My Business page ranking.
To Note:  In some cases, the yoga studios with the most reviews didn't get the top spot, but overall, yoga studios that get in the top three have plenty of excellent client reviews.
Often Google search will order results, IN PART based on proximity.  This is especially the case in places where there are dozens of yoga studios.  Therefore, you may have the most reviews in the city, but if someone located in the north part of Ibiza is searching for a yoga studio, Google may give ranking preference to studios close to the searcher's location.
How to Use Facebook for Local SEO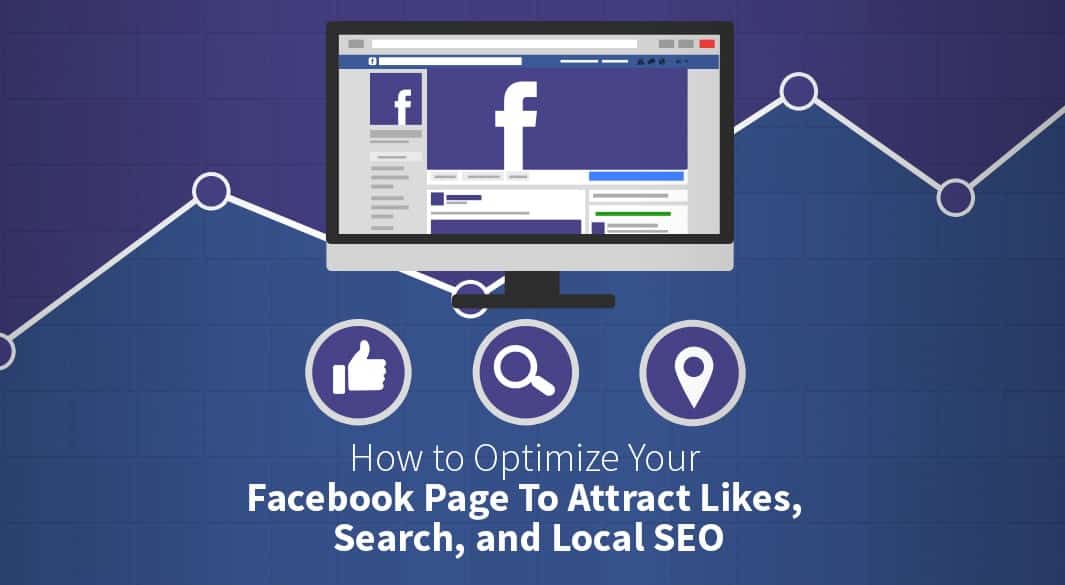 Even this post is more focused on local SEO strategy for yoga studios outside of the Facebook ecosystem (because of Facebook complexity Ill dedicate following posts only to Facebook marketing strategy for yoga studio and businesses in wellness & fitness) there are two thinks I want to mention here and will be described in detail in following posts.
The Event Ad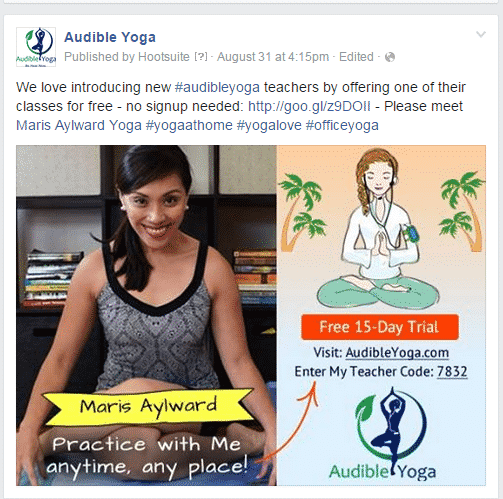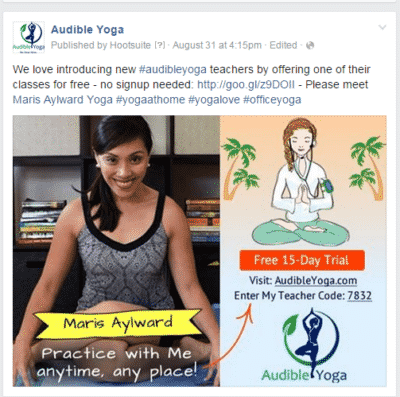 I can count on the fingers of one hand the number of yoga studios, retreats, meditation canters and spas using the Facebook event ad.
One of the best ways to use Facebook to market your yoga classes is through running a special event and advertising that on Facebook.
This event won't be one of your regular yoga classes, but instead might be a special workshop that you run once a month and that you charge more than a regular class for, and therefore is worth spending some money on advertising.
The CTA on these ads usually send users directly to the ticket purchase page. Using this type of ad will help drive a targeted group of people to attend your event. These will show up in the News Feed of the specific audience you've chosen. Events are a big part of all yoga studios or retreats, but getting people to attend even a small event, can be tricky. Promoting your event to a targeted specific audience on Facebook will help drive the right kind of attendees.
A good ad will clearly show the benefit of attending the event: The price, dates, and a clear Call-To-Action to purchase a ticket.
The key elements of the event ad are:
It's visual
It's relevant
It's valuable
It has a clear call-to-action
And last but not least its precisely targeted
More about all of these key elements as well as proven tips promoting your yoga classes through events in following posts.
Check-ins – Tell your friends you´re here
Imagine that you were trying to create the ultimate Facebook post to promote your yoga studio or meditation centre in Ibiza. What kind of information would you include? Location? Ratings? People who have been there? Photos of your community?
It turns out that this is exactly how Facebook check-ins work, and they're the most valuable form of exposure a yoga studio owner could hope for.
Jet it's another ignored key element in terms of local SEO overlooked by most of the yoga studios in Ibiza. While testing it on several yoga retreat and surf camps Facebook pages check-ins clearly seemed to be an important ranking factor. Result of my testing is the more check-ins a place had built over time, the higher the correlation to stronger rankings. It was working in Morocco where I was living more than a year and it will work same way for your yoga studio in Ibiza.
Reviews, Reviews, Reviews
Online Reviews Are Growing in Importance


Over the years there has been a steady increase in the number of rating and review websites. Additionally, almost every online business directory – from TripAdvisor to Facebook – allows almost anyone to say virtually anything about a business to everyone on the Internet. These review rating websites even show up in search engine results. Reviews and star ratings matter because they can influence future customers.
Reviews Impact Buying Decisions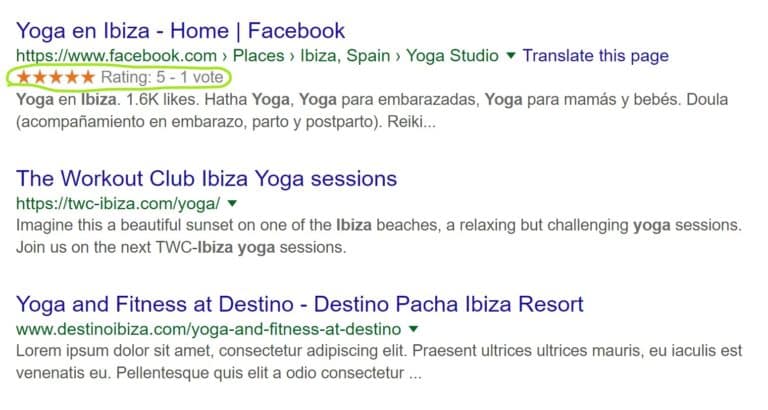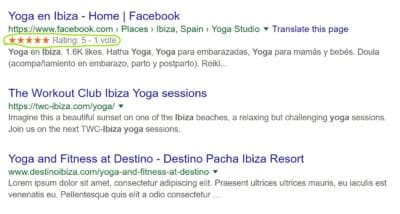 Think about it. When you want to purchase a product or service, what do you do first? Chances are you do online research and look at what other people are saying about the product or service you're interested in buying. Yes, you probably even read online reviews! And if you were to ask your students and clients how they personally buy products or services, chances are they're looking at reviews, too. Actually, it's hard to avoid reviews because those stars show up in the search engine results pages (SERPs) when people search on Google – reviews even appear in the ads!
Reviews are one of the biggest perks of having established, well-optimized local listings. Based on research, 85% of consumers read online reviews before they purchase local services. These people also report that they trust online reviews as much as personal recommendations.
The Numbers Don't Lie
85% of consumers regularly or occasionally read online reviews
80% of people trust online reviews as much as a personal recommendation
90% of participants said positive online reviews influenced their buying decision
86% said their decision was influenced by negative reviews
But Wait … There's More!
This article provides the highlights of setting up your yoga studio, meditation centre or spa to be among first in search result, but by no means covers all the steps or elements involved.
If you would like to get more "clients on demand" and are interested in much detailed plan and tailor-made local SEO strategy for your yoga studio or meditation centre, schedule an appointment with me.
WhatsApp: +420 737288662
I transformed my passion for design, experiences in business, markting and online jewellery sale into digital nomad lifestyle. Sustainable traveling together with website design and internet marketing became my new way of living.
Web Design in Ibiza
High Quality Web design services. The Complete Web Design Solution in Ibiza, Spain. Includes Professionally Designed Websites, Facebook and Digital Marketing Strategies That Work, On-Page SEO Techniques To Rank On The First Page and more.
Web Design in Ibiza
High Quality Web design services. The Complete Web Design Solution in Ibiza, Spain. Includes Professionally Designed Websites, Facebook and Digital Marketing Strategies That Work, On-Page SEO Techniques To Rank On The First Page, Airbnbn Optimization and more.